● INTRODUCTION
- EASYKEY is the easy tool for electronic key programming. It has manufactured by DTDAuto Technology Center, Institute of Physics, Vietnam Academy of Science and Technology since 2019. It will save time and money when you solve problems relate to lost key situations and adding new key.
- EASYKEY is a useful product for:
+ Customers are electronic key locksmith
+ Customers are repairer with low financial level
+ Support many automatic features for normal smart key repairer
- Used for vehicles that equipped smart key system of HONDA, YAMAHA, PIAGGIO, VESPA, SUZUKI brands.


HONDA: AIR BLADE 125, CLICK-i 125, LEAD 125, PCX 2015-2019, PCX Hybrid, FORZA, SH MODE, SH 125/150 ESP, SH 300i ABS, SCOOPY-i ESP, VARIO 150, VARIO ESP, X-ADV, SUPER CUB...
YAMAHA: XMAX, NMAX, SMAX, AEROX, LEXI, FREEGO S, LATTE, GRAND Hybrid, JANUS Limited, JANUS Premium, NVX 155 ABS, NVX Deluxe, NVX Doxou, QBIX...
PIAGGIO: BEVERLY 125/300/350 MIUG3, FLY 125/150 MIUG3, FLY 125/150 3V MIUG3, LIBERTY 125/150 MIUG3, LIBERTY 125/150 3V MIUG3, LIBERTY 125/150 3V PGN04, LIBERTY 125/150 3V PGT01, LIBERTY 125/150 3V PGS01, LYBERTY ABS PGS06, LIBERTY 125/150 AC19I/20I, LIBERTY 125/150 AC191/201, X10 125/350 MIUG3, MEDLEY 125/150 PGQ16, FLY 125/150 AC19I/20I vv…
VESPA: 946 125/150 3V MIUG3, GTS 125/150/300 MIUG3, LT 125/150 3V MIUG3, LX 125/150 MIUG3, LX 125/150 3V MIUG3, SPRINT 125/150 3V PGS02, LX 125/150 AC19I/AC20I, LX 125/150 AC19I/AC20I, S 125/150 3V MIUG3, SPRINT 125/150 3V PGN04, SPRINT 125/150 3V PGT01, PRIMAVERA 125/150 MIUG3, PRIMAVERA 125/150 PGN04, S125/150 MIUG3, GTS 125/150 MIUG2...
SUZUKI: GSX-R150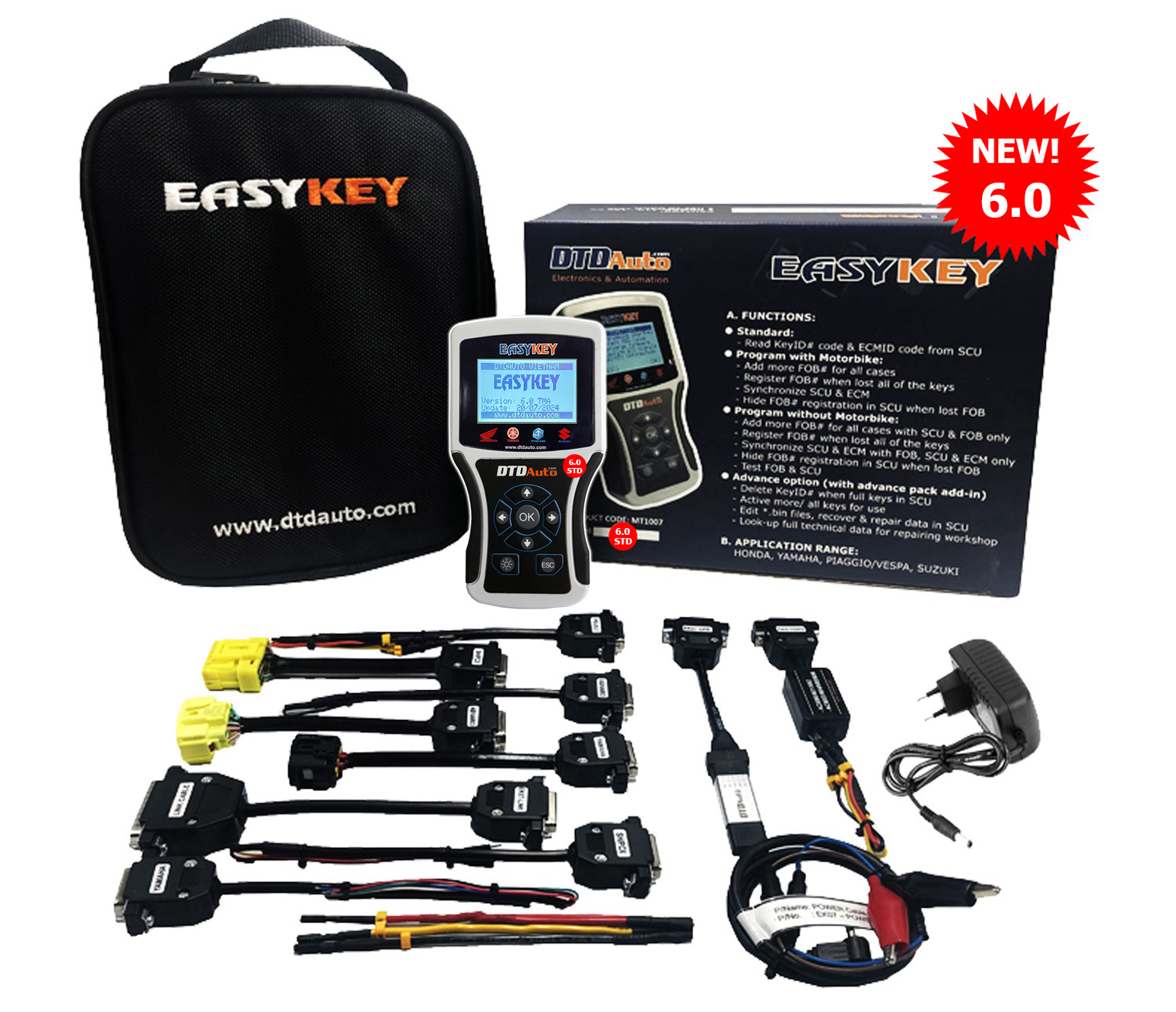 EASYKEY image

● OPTIONS & FUNCTION


OPTIONS
FUNCTION
IMAGE
PRICES
STANDARD UNIT

- Read all KEYID# and ECMID from vehicle SCU
- Program all of case about Smart Key System: ON VEHICLE, ON SIMULATOR & Fast automatic programming direct to SCU & ECM (without vehicles) as following:
+ Register more FOB# for all of cases
+ Register FOB# when lost all of the FOB#
+ Delete KEYID in SCU memory
+ Synchronize SCU & ECM for all of cases
+ Inactivate FOB# code in SCU when lost FOB#
+ Check FOB# & SCU
+ Display status of KEY (ON/OFF)
+ Display SCU information
- A gift MOTODATA software for 6 months
(Notes: requires a software renewal fee: 15$ / each year for next time)
265 USD
EXTENSION
ACCESSORY
NO.1



(

SMARTKEY PRO 6


Optional)

Support the advanced function as following:
- Copy KeyID# from SCU (A) to SCU (B) to activate one key (FOB) to use simultaneously for multiple vehicles
- Edit/Repair *.bin files to flexible handling of all situations about Smart key
- Restore original, rescue SCU data, repair SCU data
- Search ECMID direct from Engine ECM
215 USD
EXTENSION
ACCESSORY
NO.2



(

MOTOBOX


Optional)



Support the super advance function as following:
- Simulate INPUT/ OUTPUT signals of ECUs for testing, diagnostic and repairing ECU & ODO hardware
- ODO value correction with new solutions for most common motorcycles (click here follow function list on website)
- Reprogramming & upgrade ECM's firmware for HONDA, PIAGGIO/VESPA vehicles
- Support for all HONDA, YAMAHA, PIAGGIO/VESPA (it also support GILERA, APRILIA, DERBI, PEUGEOT, which use similar ECMs), SYM, SUZUKI, KYMCO PGM-FI/FI motorbikes

324 USD
● RELATED IMAGES


Interface for initial screen
Interface for function selection
Interface for list of motorbikes
Interface for list motorbikes
Interface for function selection
Interface for function selection
Interface for function selection
Read KEYID/ECMID
Interface for inactivating key
Interface for registration key
Interface for ECU signal simulation
Interface for adjusting ODO
Clip for overview about EASYKEY
Clip for functions of EASYKEY
Clip for reading KeyID
Clip for registration key of HONDA
Clip for registration key of YAMAHA
Clip for registration key when lost all of keys of HONDA
Clip for registration key when lost all of keys of YAMAHA
Clip for automatic synchronization SCU with ECM
Clip for inactivating/activating FOB
Clip for adjusting ODO value
● COMPONENTS