HONDA SMART KEY SERVICE PACK
● Product code: MT1005
● Origin: DTDAUTO
● Availability: Có
● Rate:
● Price: 200$ US




DTDAuto refused to distribute this product to the China, Taiwan markets
● INTRODUCTION
- HONDA smart key service pack is researched and manufactured by DTDAuto Vietnam since 2018. It read Key ID and ECM ID directly on MOTODATA software from SCU via dedicated cable for HONDA: LEAD 125 (2017-2018), AIR BLADE 2018, VISION (2018-2019), CLICK 125i 2018, VARIO 125/150, X-ADV, SH 125/150/125D/SM (2016-2018), SH 300i ABS (2016-2017), PCX (2016-2018), SH MODE 2017-2018
- Low cost solution for users, easy to use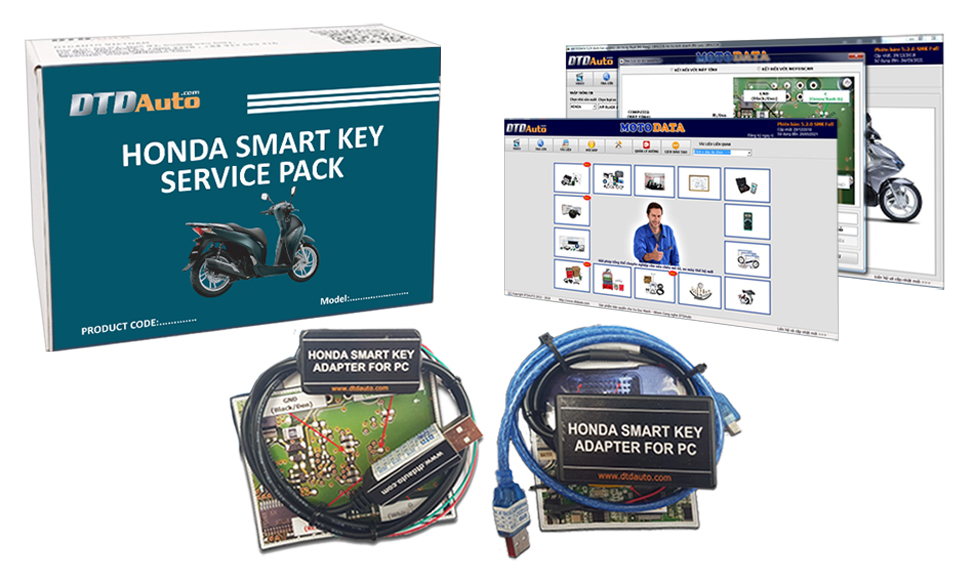 ● APPLICATION & FUNCTION
APLLICATION
FUNCTION
CABLE TYPE
LEAD 125 (2017-2018)
- Read Key ID and ECM ID directly from SCU
- Backup Key ID and ECM ID to computer when reading is successful
- Rescue SCU data to repair software from saved data or sample data of similar SCU
- Edit data to perform advance functions
SMK-LV*
AIR BLADE 2018
VISION 2018-2019
CLICK 125i 2018
VARIO 125/150
SH 125/150/125D/150D/SM
(2016-2018)
- Read Key ID and ECM ID directly from SCU
- Delete Key ID when SCU is registered full 4 Key IDs or cancel Key ID when lost key to avoid lost vehicle
- Backup SCU data when reading is successful
- Rescue SCU data to repair software from saved data
- Edit data to perform advance functions

SMK-SP*
SH 300i ABS 2016-2017
PCX 2016-2018
SH MODE 2017-2018
X-ADV
● GUIDE INSTALL MOTODATA SOFTWARE
You need to repair:
- Computer use Windows operating system (do not support for other operating systems) and have USB port
- The computer is connected to Internet and installed TeamViewer
- Open Teamviewer and send "Your ID" and "Password" to dtdauto@gmail.com
Notes: You should choose the PC stability and long-term use because MOTODATA is copyrighted software, installing to other computer will take a lot of time
● IMPORTANT NOTES
- When you connect SMART KEY cable to computer, please wait for 30 seconds to computer identify COM port.
- When you change cable to read different SCU types you have to restart your computer so that the connection is successful
- Check that the wire and footprint soldering is correct according to the guide diagram.
- Good soldering contact, good connector, not wrong, short-circuit with other points electrical power of computers must be stable, not to let the computer power off, hang up, stop operating or restart during the read is processing.
- Do not place SCU on conductors or near spark sparking sources
- Turn off all other applications running in parallel on the computer and all antivirus software
- Absolutely do not use the mouse, keyboard or other operations with the computer while computer is reading data
- If the computer hangs during work, it must wait for more time. Please contact dtdauto@gmail.com for assistance.
● PACKAGE
| | | |
| --- | --- | --- |
| No. | DESCRIPTION | IMAGE |
| 1 | SMK-LV* cable to connect SCU with computer | |
| 2 | SMK-SP* cable to connect SCU with computer | |
| 3 | MOTODATA software on computer | |
| 4 | Quick guide | |
● RELATED IMAGES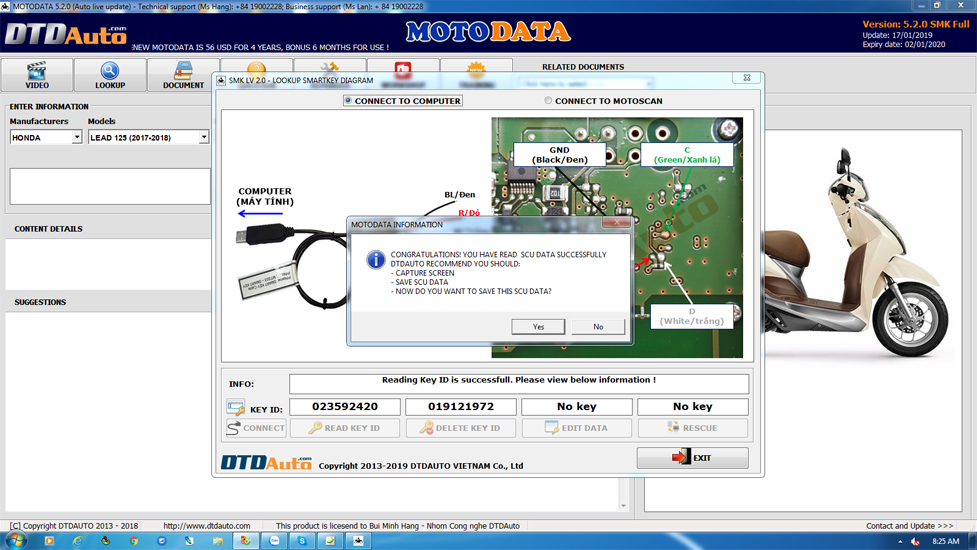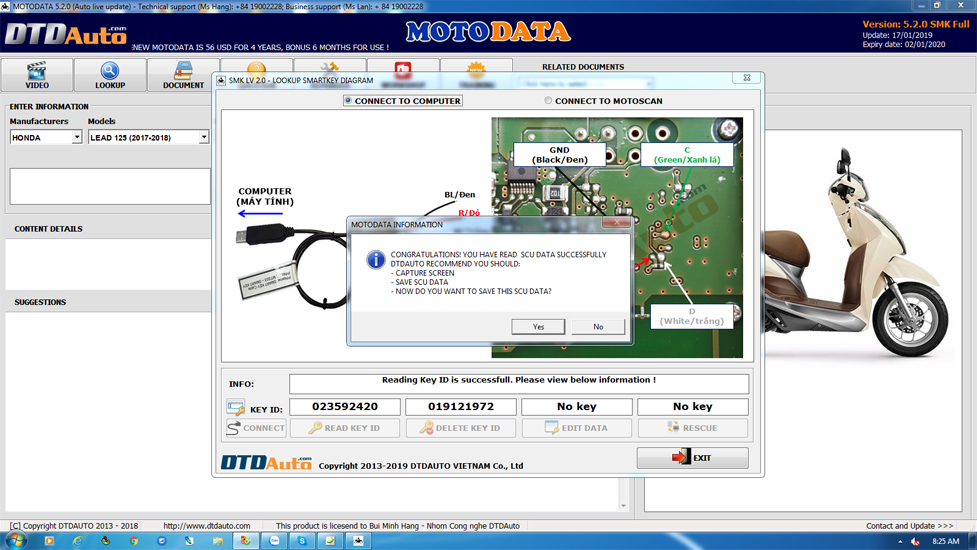 MOTODATA Smartkey interface - Read Key ID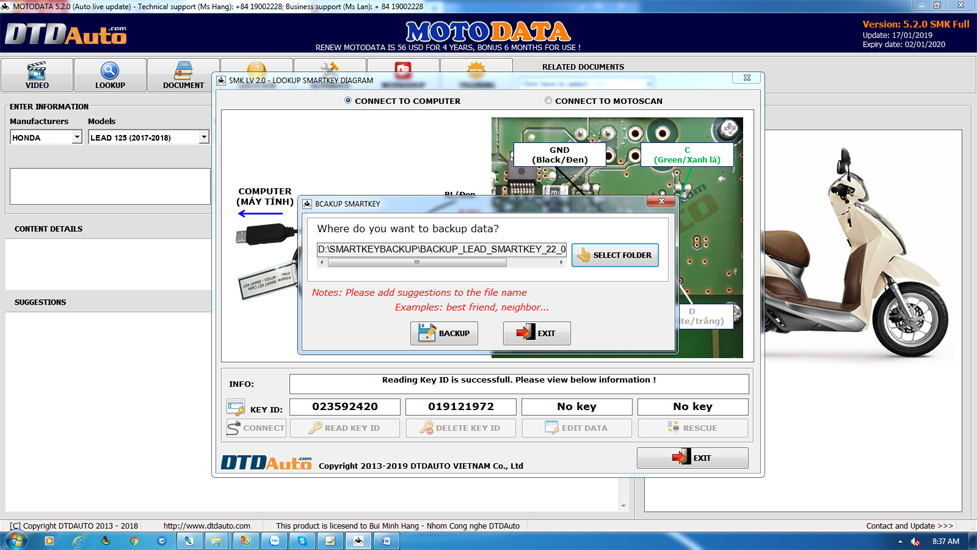 MOTODATA Smartkey - Backup SCU data/td>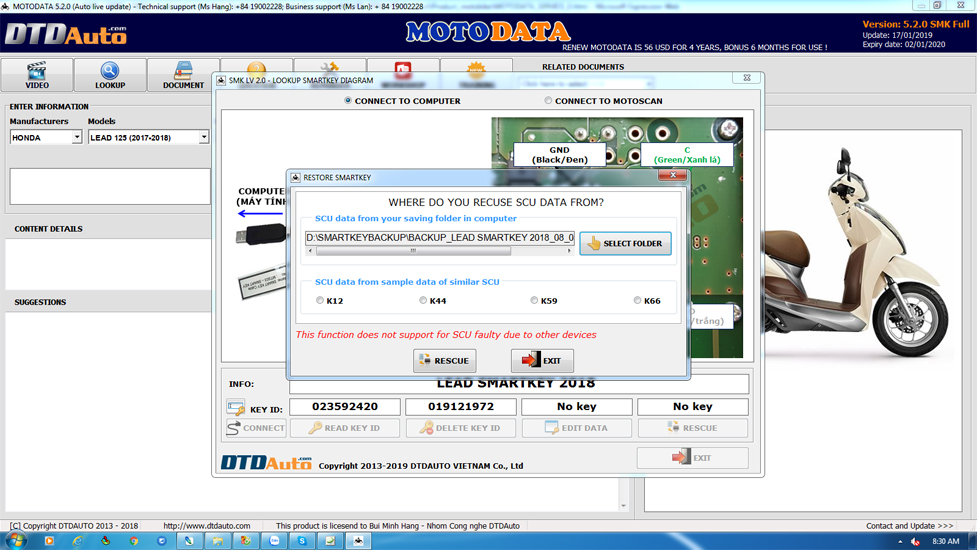 MOTODATA Smartkey interface - Rescue SCU data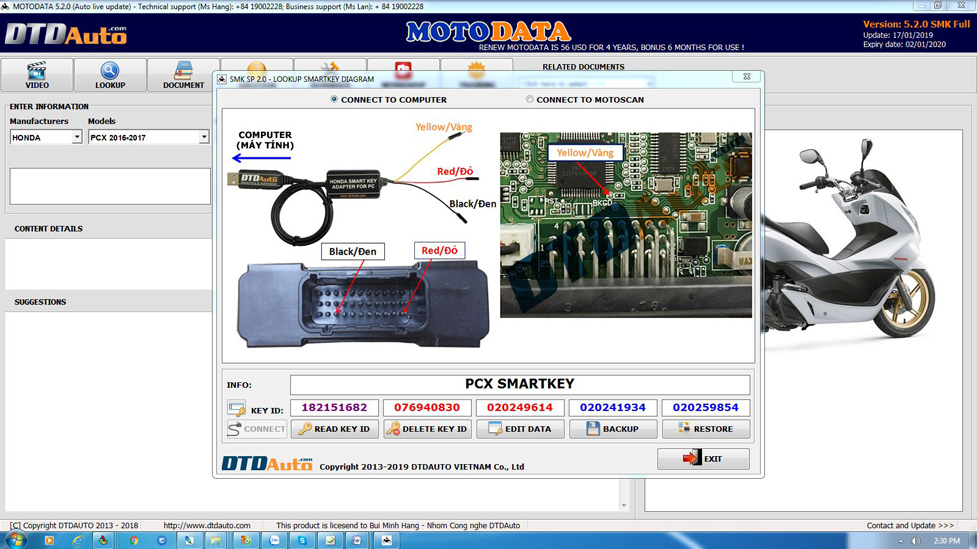 MOTODATA Smartkey interface - Read Key ID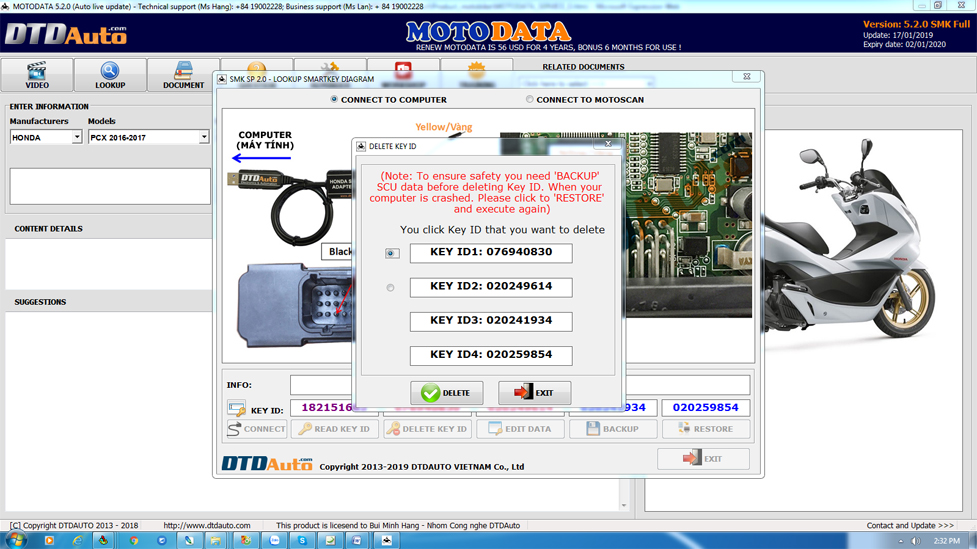 MOTODATA Smartkey interface - Delete Key ID
MOTODATA interface - Rescue SCU data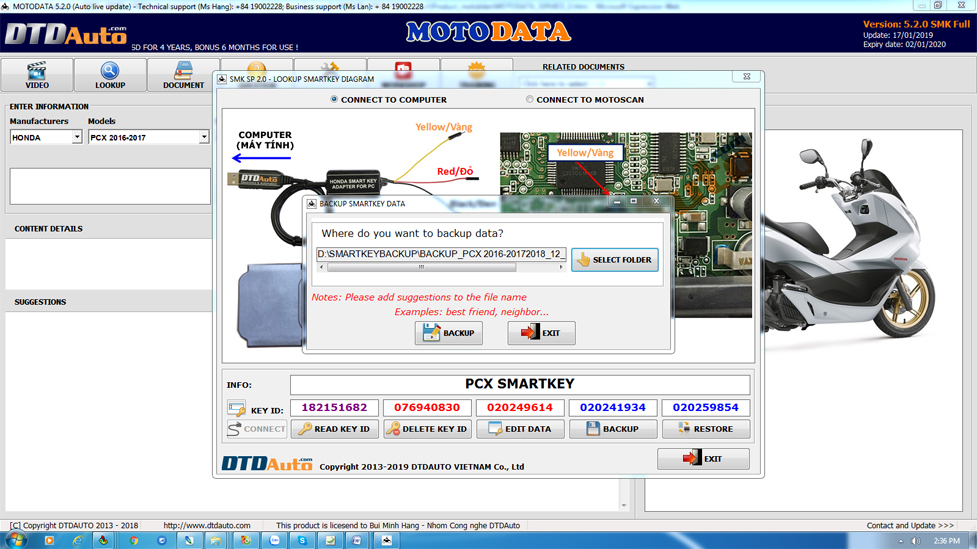 MOTODATA interface - Backup SCU data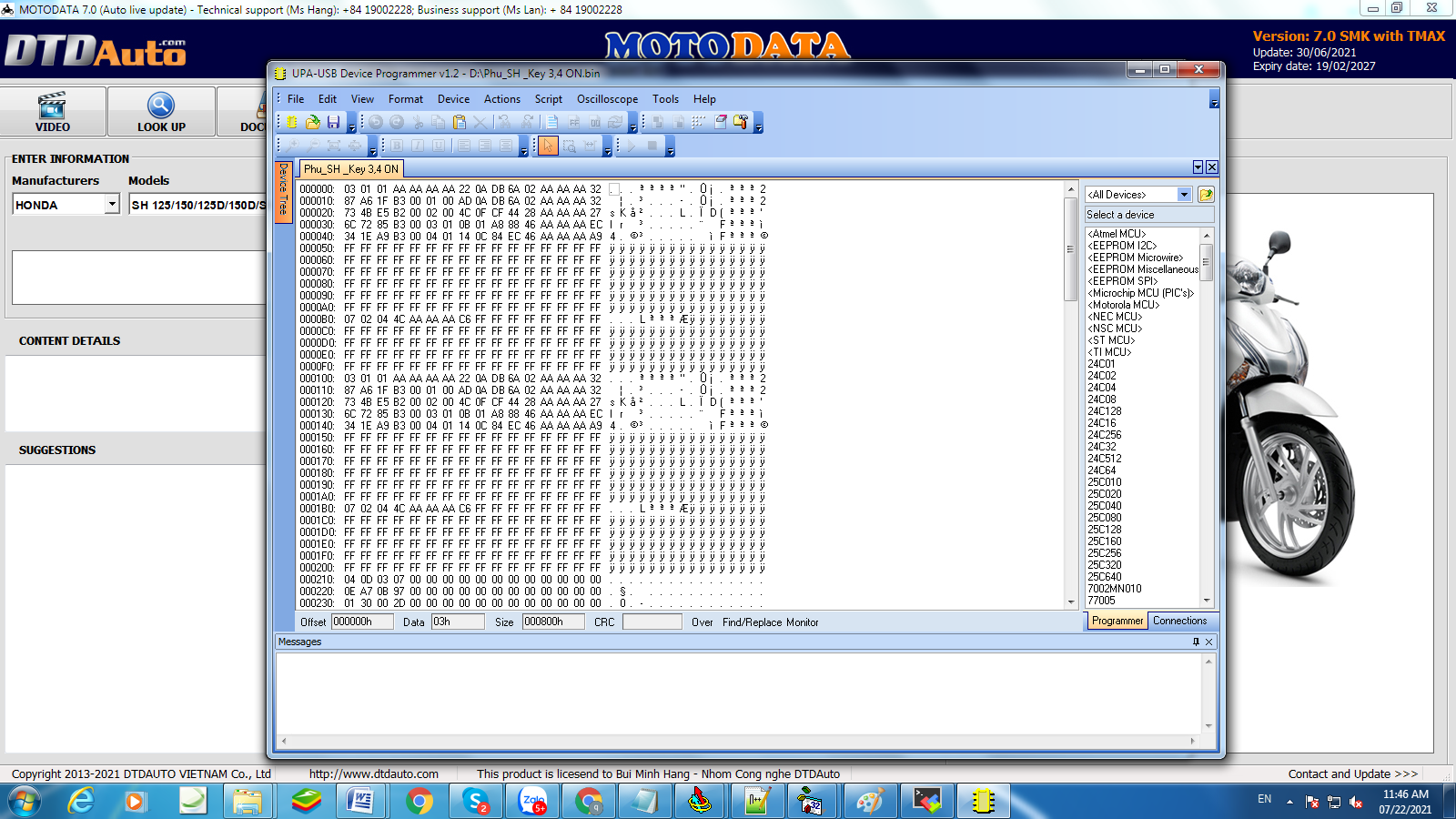 Giao diện MOTODATA Smartkey - Edit SCU data
● RELATED DOCUMENTS
| | | | | | |
| --- | --- | --- | --- | --- | --- |
| | Answer & Question | | Consultation selection | | Why buy DTDAUTO products? |
| | Product introduction | | Quick guide | | Product introduction |