- Lookup electrical wiring diagrams of systems
- Lookup IC solder pin diagram for odometer correction by MOTOBOX
- Lookup smart key diagram to read Key ID for HONDA, YAMAHA motorcycles
- Support repair procedure for HONDA Smart key system
- Lookup power pin diagram and signal pin of ECMs for PIAGGIO programming key
- Lookup ACU, SCU, ECM connector pin outs
- Lookup immobilizer diagram for PIAGGIO/ VESPA motorcycles
- Lookup oil indicator reset procedure
- Lookup the compression ratio of the engine combustion chamber
- Lookup cylinder pressure of engine
- Lookup current leakage and charging current
- Lookup ignition timing advance
- Look up wiring color code
- Lookup acronym of electrical system
- Lookup fault codes and troubleshooting for engine system, ABS system and immobilizer system
- Lookup fault location on motorcycle and electrical system diagram
- Lookup fault location by fault code on electrical diagram
- Lookup mechanical and electrical specifications
- Lookup location of components and signal pins: sensor, ECU, actuator vv...
- Lookup measurement procedure and checking, determine preliminary damage
- Guide mechanical removal/installation
- Maintenance process, online question and answer
- Support guide book and updating/upgrading process of MOTOSCAN
- Online support technical by technicians of DTDAuto
- Free and automatically updated the newest version
- Software with licensed to a smart phone use iOS operation system
- Support English and Vietnamese languages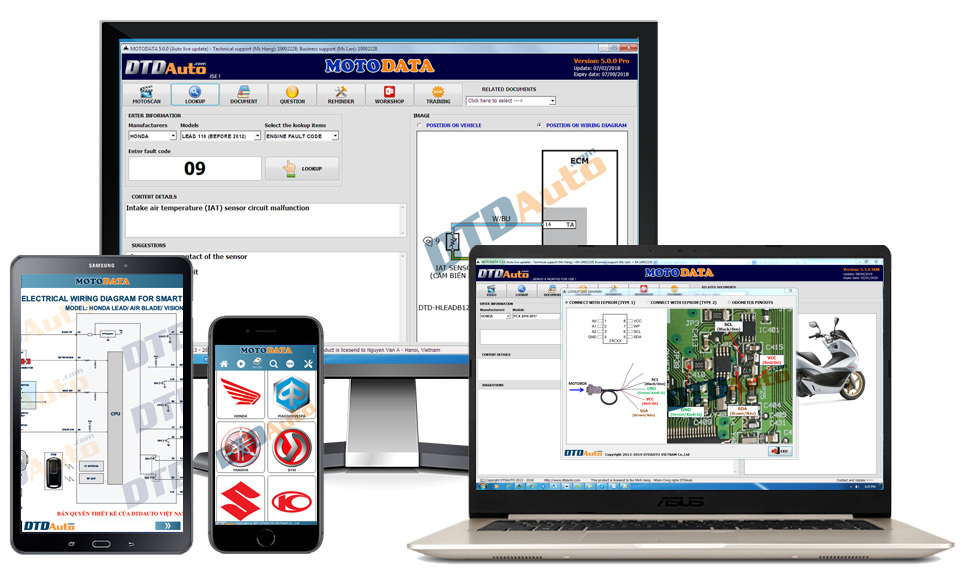 ● DOWNLOAD SOFTWARE
HARDWARE CONFIGURATION
DOWNLOAD
- Smart phones, tablets using iOS operating system manufactured from 2012 to now:
+ IPHONE 5/5S/6/6S/7/7S/8/X/XS
+ IPAD MINI/AIR/PRO
- Operating system: iOS 9.0 and above
● APPLICATION
- MOTODATA software is an online data collection when your computer, smartphone connected to internet.
- MOTODATA is a useful product for repairers, motorcycle repair workshops and vocational training school. It used to synchronize with MOTOSCAN when repairs and training.
- Used to lookup repair data for motorcycles and scooters that include the old-generation motorcycles using carburetor and the new generation motorcycles using PGM-FI system of PIAGGIO, HONDA, YAMAHA, SUZUKI, SYM, KYMCO brands.
● ADVANTAGES
- Support English, Vietnamese languages
- Automatically updated the newest version via internet
- High quality document images even when zoomed in or out image
- Simply, easy to use
Guide video for using MOTODATA software - Part 1

Guide video for using MOTODATA software - Part 2
| | | |
| --- | --- | --- |
| | | |
| Main screen | List of brands | List of brand models |
| | | |
| Lookup fault position on vehicle | Lookup fault position on wiring diagram | Lookup fault position by fault code |
| | | |
| Lookup system diagram | Lookup ECM connector pinouts | Lookup immobilizer diagram |
| | | |
| Procedure of making Smart key  | Procedure of making Smart key  | Procedure of making Smart key  |
| | | |
| Guide mechanical removal/installation | Lookup acronym of system diagram | Lookup cylinder pressure of engine |
● RELATED DOCUMENTS


| | | | | | |
| --- | --- | --- | --- | --- | --- |
| | Answer & Question | | Consulation selection | | Why buy DTDAUTO product? |
| | Product introduction | | Download user guide | | Installing instruction |