● INTRODUCTION

- CAN BUS system is an new automotive training equipment (CAN BUS - controller area network on new generation automotive from 2006) researched and manufactured by DTDAuto Technology Team, Institute of Physics, Hanoi, Vietnam.
- This equipment is special designed as teaching aids and learning tools for universities and technical training where trainees are taught both theory and practice of CAN BUS system on automotive.

● FUNCTION & MAIN APPLICATIONS

- Exploratory research principles, and operations of CAN Bus system
- Supply sufficient information about the structure, working principles of CAN Bus systems in an intuitive manner, lively.
- Support simulation, fault diagnosis and testing of the CAN bus system, supporting students the ability to analyze and solve the common defects that may occur
- Support multi-media in teaching, setting professional teaching environment and standard evaluation system.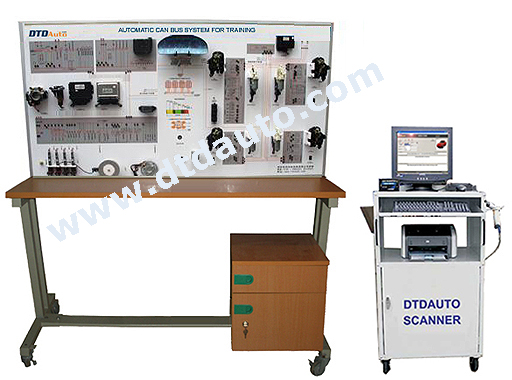 Equipment Image





● TECHNICAL FEATURES



- CAN BUS system connect and communication with the instrument panel and a number of other devices of engine and vehicle's body.
- Software on the computer and testing equipment to check online connection to the device can test the connection in the communications network, system fault diagnostics, system errors removed
- The function of the oscilloscope graphs display that can read exactly CAN BUS waveform in the normal state and fault status (optional)
- Perform data exchange of CAN BUS system on the computer (optional)
- Create fault by hitting PAN, convenient for teachers to teach and students to practice
- Check the voltage signal of each connector, convenient for defect analysis
- Electrical wiring diagram is shown details in Panel of the device convenient for circuit analysis
- Electricity used: 220VAC/50Hz and 12VDC/35A
- Total weight: about 75 kg
- Size range: (2400H x 1800W x 800D) mm



● COMPONENTS



1) Engine control unit
2) Left, front door control unit
3) Right, front door control unit
4) Left, rear door control unit
5) Right, rear door control unit
6) Door key switch
7) Door control light
8) Light switch
9) Engine control module
10) Gear box control system (integrated in ECM)
11) ABS control system
12) Odometer
13) Key switch system
14) Frame, anti vibration bracket, powder coated
15) Electronic Systems merge, hitting PAN, computer diagnostic connection
16) Computer, bracket
17) Copyrights software on CD paired with License key
18) Guide book
19) Batteries 12V / 35A (optional)



● RELEVANT DOCUMENTS




| | | | | | |
| --- | --- | --- | --- | --- | --- |
| | Answer & Question | | Consultation selection | | Why buy DTDAUTO products? |
| | Product introduction | | Product introduction | | |